Top 5 WordPress E-Commerce Plugins for Powering Your Online Store
In today's digital era, setting up an online store is a strategic move for businesses to reach a wider audience and increase revenue. WordPress, being one of the most popular website building platforms, offers a plethora of options for e-commerce integration. From enhancing the shopping experience to managing inventory and processing payments, the right e-commerce plugin can make a world of difference for your WordPress website. In this post, we'll explore the top five WordPress e-commerce plugins that can help you create a successful online store.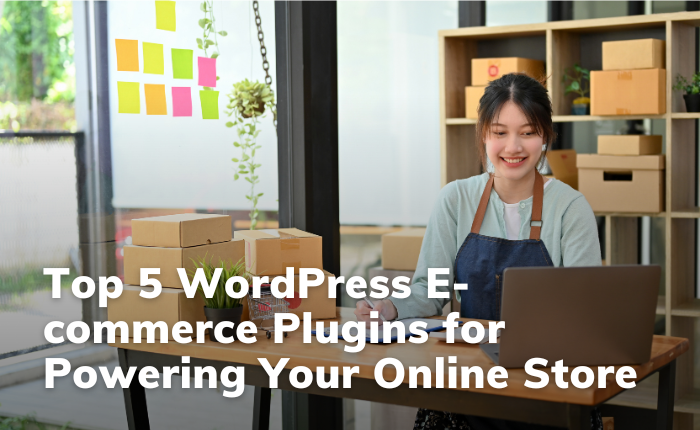 1. WooCommerce:
WooCommerce is undeniably the kingpin of e-commerce plugins for WordPress. With over 5 million active installations, it's the most widely used and trusted solution for building online stores. Developed by Automattic, the company behind WordPress itself, WooCommerce boasts a robust feature set and an extensive ecosystem of extensions and themes.
Key Features:

Easy Setup: WooCommerce's user-friendly setup wizard guides you through the process of configuring your store, adding products, and customizing the appearance.
Versatility: It supports both physical and digital products, as well as various product types like subscriptions, memberships, and bookings.
Extensions: With thousands of extensions available, you can extend the functionality of your store to cater to specific needs, such as integrating with popular payment gateways or adding advanced shipping options.
SEO-Friendly

: WooCommerce is optimized for search engines, allowing your products to rank higher in search results and drive organic traffic to your store.

Active Community: The large community of users and developers ensures that you'll find support, resources, and updates to keep your store running smoothly.
2. Shopify Ecommerce Plugin:
Shopify Ecommerce Plugin is another excellent option for integrating e-commerce functionality into your WordPress website. Although Shopify itself is a standalone e-commerce platform, its plugin allows you to leverage its powerful features without migrating your entire site.
Key Features:

Simplified Integration: By installing the Shopify plugin, you can effortlessly sync your Shopify store with your WordPress site and manage your products, inventory, and orders from one centralized location.
-Security and Reliability: With Shopify handling the hosting, security, and updates, you can focus on running your business while enjoying the peace of mind that comes with a secure and reliable platform.
Mobile Responsiveness: Shopify ensures that your online store looks and performs flawlessly on various devices, providing a seamless shopping experience to your customers.
Payment Options: The plugin allows you to offer a wide range of payment gateways to accommodate global customers and facilitate smooth transactions.
Abandoned Cart Recovery: Reduce cart abandonment rates with automated email reminders, enticing customers to complete their purchases.
3. Easy Digital Downloads (EDD):
If you primarily sell digital products like ebooks, software, or music, Easy Digital Downloads (EDD) is the perfect solution for your WordPress e-commerce needs. EDD is designed with simplicity and efficiency in mind, making it an ideal choice for creators and developers alike.
Key Features:
Digital Product Focus: EDD is tailored specifically for digital products, allowing you to manage licenses, software updates, and download links effortlessly.
Extensibility: The plugin offers a wide range of extensions that can further enhance your store's functionality, such as affiliate systems, payment gateways, and discount codes.
Detailed Reporting: EDD provides comprehensive sales and earnings reports, giving you valuable insights into your store's performance and helping you make data-driven decisions.
Developer-Friendly: With clean and well-documented code, developers can easily customize EDD to suit their specific requirements.
Customer Support: EDD's active community and dedicated customer support ensure that you receive assistance when needed.
4. BigCommerce:
BigCommerce is a powerful e-commerce platform that integrates seamlessly with WordPress through its official plugin. It offers a comprehensive set of features for building and growing your online store with ease.
Key Features:

Salability: BigCommerce is built to handle stores of all sizes, from small businesses to enterprise-level operations, making it a flexible solution that can grow with your business.
Multi-Channel Selling: Expand your reach by selling on various platforms like Amazon, eBay, and Facebook, all managed from your BigCommerce dashboard.
Abandoned Cart Saver: Reduce lost sales by automatically sending targeted email campaigns to customers who abandon their carts.
Seamless Checkout Experience: With a smooth and secure checkout process, you can enhance customer satisfaction and boost conversions.
24/7 Support: BigCommerce provides round-the-clock customer support, ensuring you receive timely assistance whenever you need it.
5. Ecwid Ecommerce Shopping Cart:
Ecwid is a versatile e-commerce solution that offers a seamless shopping experience across various platforms, including WordPress. It enables you to add an online store to your website quickly and efficiently.
Key Features:
Easy Integration: Ecwid is effortless to integrate into your WordPress site, requiring just a few clicks to set up your online store.
Mobile Responsive: Your store will look great and function smoothly on any device, ensuring a positive user experience for your mobile customers.
Global Selling: Ecwid supports multiple languages and currencies, allowing you to reach an international audience and expand your customer base.
Facebook and Instagram Integration: Easily showcase your products on social media, tapping into the power of social commerce to drive sales.
Inventory Management: Keep track of your inventory, and enable stock tracking to prevent overselling and manage your product availability efficiently.
Conclusion:
In conclusion, choosing the right e-commerce plugin is a critical step in setting up a successful online store with WordPress. Each of the top five plugins mentioned in this blog post offers unique features and advantages to cater to different business needs. Whether you're selling physical or digital products, seeking scalability, or aiming for seamless integration, there's a perfect e-commerce plugin for your WordPress site. Evaluating your specific requirements and considering factors like ease of use, support, and extensibility will help you make an informed decision and embark on a successful e-commerce journey. Regardless which one you choose Scarlet Digital can help you set up your online store today!  Click here to schedule a 20 minute discovery call and find out how we can help!.